You can now have a quick access to your Walmart family account at the member's page at www.myfamilymobile.com. Through this portal, you have a powerful tool that provides everything you need to manage a family mobile plan. Walmart is powered by T- Mobile, one of the leading telecom companies which caters many smartphone services globally.
Get your access by logging in to the site with your family mobile phone number and password. Enjoy their features like viewing bill details, checking call and text limits, make payments, and even do other transactions online. You have a round-the-clock availability of services as a member. You can access your account anytime, anywhere. If you don't have an account yet, you can just click on the register button and get started with the process.
The MyFamilyMobile Registration Process
You can follow a simple process in registering. Get your phones ready as you will be needing them in the activation process.
The first thing you'll get is a temporary password. If you do not have one, activate your phone number by clicking on the link, then find the button that says "Text me a temporary password." Then use this password as you start registering for your MyFamilyMobile account. When your temporary password is accepted, you'll be asked to change it to a new password. You will be guided through the steps in making one. It is recommended that you remember your password as you will need it for future use.
The next thing to do is to select and answer a security question. This will be needed for future verification in retrieving lost passwords. Then, enter your name and email address. Then find the "Next" button to continue the process. Lastly, enter your personal information as well as your email address. Verify your email address to finish and try to access your account using the registered details. Once successful, you are now ready to manage your own account.
What a Registered Member Can Get
Here are some of the things a member can benefit out of My Family Mobile:
Account management online is available 24 hours a day
Submit onetime payments using credit or debit cards, e-check or set up automatic recurring payments
Print or view the 12 most recent bills
Users can check Extras Pack Balance or get a refill
Add a line anytime, anywhere
Set limits and control access
Available Customer Support group for your family mobile service plans
At MyFamilyMobile.com, you can find a lot of valuable and time-saving features available. You can also use Walmart offers and check out the latest tools to let you enjoy full services ready for your transactions, inquiries and other concerns.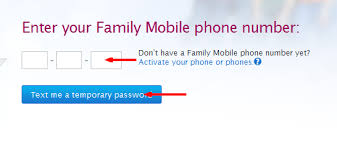 If you have any other concerns that My Family Mobile can help you, can reach them by calling 877-440-9758. You can call 611 from your phone to directly connect to the CS team. For any technical issues with your phone or their services, it is better to reach them using another phone for your concerns to be addressed.