Manage your personal or business Premium Credit account via www.mypremiumcredit.com. The online system gives you the benefit to sign your credit agreements online, particularly for those who are members of the company. You can view your payment history, know the accounts which need to be paid, and receive updates, all in one place. Avoid late payments and be prompted of your due account through the online site.
The Premium Credit Company is one of the most outstanding providers of financial assistance in the countries of the United Kingdom and Ireland for more than 25 years. This credit company caters to more than two million clients and counting. The services offered by mypremiumcredit.com are: financial assistance for you to pay your annual fees, insurance products, and some advices on how to flex your finances in order to pay your due accounts and other unsettled bills.
Benefits of MyPremuimCredit
Subscribe for a membership account now and enjoy the benefits that you can get from enrolling at My Premium Credit online services. The registration is simple and will take just a few minutes of your time. As a member of the credit line, you will experience the following among other benefits.
Sign credit agreements online.
Check your debit account payables and manage your accounts using the online portal.
Have the advantage of keeping track of your credit agreements in a convenient way.
There are three simple steps in registering a Premium Credit Account online. Submit your ten-digit number of your credit agreement reference. The credit reference number usually starts with the letter C or letter D. It is located at the uppermost portion of the Premium Credit agreement form. Then, check the box to agree with the terms and conditions set by the company. Select the Continue Option to proceed with the transaction.
Logging into the online services is fast and easy especially if you have your account details on hand. Just enter your valid email address and the unique password you created in the box of the homepage. Then select the sign in option and you will be directed in to the main page of the my premium credit official site.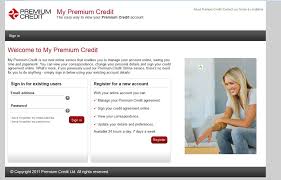 You can contact the customer support team of the credit company for clarifications, concerns and queries about the offered credit services. The page has four categories to choose from in order to answer some of your inquiries. These are helpful links that has answers to questions commonly asked in the program. These categories are: how to set up an agreement, topics about changing your agreement, how manage your profile, and credit agreement renewal. The site has provided a "contact us" section for the different support representatives you can call, depending on the topic of your inquiry.