Check the status of your rental car insurance claim in an easy and quick way by accessing your American Express' Car Rental Claim account through www.yourcarrentalclaim.com. Using your account you can file for a new car claim or check on your existing claim, which you registered for a request online.
Renting a car is convenient. You can save wear and tear on your own car, avoid increasing your car's depreciation value, and have the ability to choose the right type of car that you need. If you don't own a car, renting one is sometimes more cost efficient than using a cab to get around and you can bring more people and objects along with you. Even when renting cars there are also risks involved. The same as having your own car, your rented car may be stolen or damaged and this could be troublesome.
Being eligible for Car Rental Damage and Loss Insurance or Car Rental Premium Protection you will have more confidence on renting a car. Using yourcarrentalclaim.com account you can file an insurance claim for car loss or damage.
Making a Claim with YourCarRentalClaim
If you wish to make a claim, simply click on the Start New Claim located on your car rental claim page. You will then be asked to provide the following information:
Card Number
Zip Code
Rental From Date
Approximate date and time of incident
Have your car rental agreement or contract, personal insurance information and police report. These will assist you in filling your claim.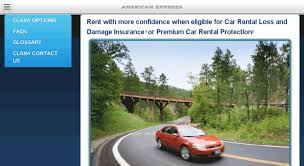 Once you filed for a claim they will send updates through email or mail. You can also check your claim status by logging into your account. The final decision for your claim could take up to 180 days but on average it will take only 45 days depending on the Card Rental Company.
If you have questions or concerns regarding your car rental claim you may contact them at 1-800-338-1670. The service is available 24/7. You can also send them an email through amexcrldp@ufac-claims.com.