AchieveCard Visa Prepaid Card
Signup or activate this prepaid card and start enjoying all the benefits.
How Do I Apply for the AchieveCard Visa Prepaid Card?
Applying for an AchieveCard Visa prepaid card is easy. We will explain all the benefits of getting the card below. To apply now just visit www.AchieveCard.com
Why Is It Smart To Apply For The AchieveCard?
1. One reason is that you get paid faster than a paper check. When you setup direct deposit with your new AchieveCard you will never have to worry about a paper check again. When the weather is bad in other states, it can delay you getting your check. Don't ever take the chance when you can get it put directly into your account where it is ready for use on your card. 
2. Signing up is quick and easy. It only takes a few minutes to apply and get your new prepaid card.
3. There is also no minimum balance to worry about. 
How Can I Use The AchieveCard?
This prepaid Visa card can really come in handy when shopping online. Shopping on Amazon or other online shops is convenient and safe. You can also use it to pay bills and make everyday purchases. It is instant money, yet way safer than carrying around cash in your wallet. 
Can I Pay Bills Online?
This is one of the best features of getting the AchieveCard. With this prepaid card you can stop writing out checks and simplify your process. Use the online bill pay feature to pay all your bills. This includes sending money direct to an individual through a paper check. When you setup your payees on online bill pay, checks are automatically sent out. AchieveCard prints and mails them for you for free. 
Do They Have A Loyalty Program?
Yes, there is an exclusive Achieve Rewards Loyalty program. Once you sign up the loyalty program will let you earn exclusive AchieveRewards. This is unique to this debit card and a nice feature for a prepaid card.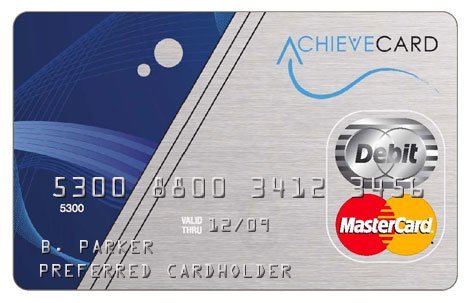 Apply for your AchieveCard today and start enjoying all the cool benefits of this prepaid card. Get your card at  www.AchieveCard.com