Create your own student online account for Central New Mexico Community College through www.mycnm.edu. You will be assisted to succeed in your workforce training or education endeavors. Choose from over 100 degrees and courses at very affordable tuition rates by the largest post-secondary institution. This data is based in terms to the number of enrollments. With students reaching more than 30,000, Central New Mexico Community College is known as the biggest community college in New Mexico. There are also college transfer courses with 28 arts and sciences disciplines that you can select from. It also includes various occupational fields, pre-management courses and engineering.
Support services are offered to students that are facing personal challenges. These challenges often hinder deserving students from attending college. Educational assistance includes CNM connect, scholarships, achievement coaches and financial aid. Learn more about the offered services by locating the blue link marked with Learn more about low tuition rates and fees. This is located under the Financial Aid and Help category. Become one of the recipients of the CNM Foundation, with over million in giving support program. The foundation also distributes over 32,000 scholarships to deserving students like you. You can learn more by accessing mycnm.edu.
Signing In To Your MyCNM Account
Follow the steps below for accessing your existing online account with CNM Community College. The instructions are only applicable for valid online accounts:
Search for the myCNM menu on the homepage. It is distinguishable by a padlock icon and can be found on the top right corner of the portal.
Fill in your password and username in the corresponding fields. The login page will pop up after using the padlock icon.
If you need assistance for your log in details, use the blue button that says Here. By default, your password will be your 6 digit date of birth followed by atCNM at the end. The format for your password is MMDDYYatCNM.
Your account will be created automatically for at least 60 minutes after being admitted to your school. Always log out and clear your web browser after using your account. This is highly advised as protection against spam and other intrusions.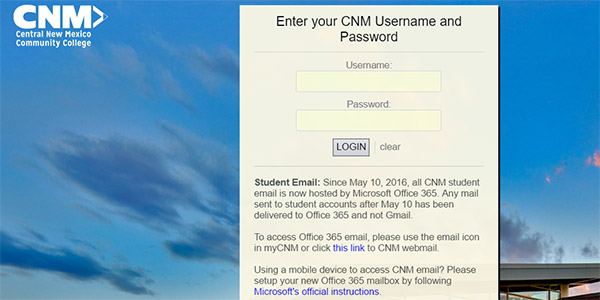 If you need assistance, look for the menus closely related to your issues such as 'Need to reset your password', 'Forgot your username' and 'Forgot your password'. You may also speak directly to the IT representative of the day by calling 505-224-4357.
Navigate the My CNM portal with ease with the help of the subheadings and menus. You will find the information that you need by navigating to the related links. For courses offered by the school, use the Programs of Study menu as an example for finding your desired information. Familiarize yourself with the Maps and Directory and you will find your way around the campus quickly and easily.
Please contact the My CNM support desk at 505-224-3000 or through the toll free number at 888-453-1304. Send your email to contactcenter@cnm.edu.