Get your exclusive employee access to Marriott Extranet system through the portal of www.4mypdr.com. The login page is reserved for all Marriot employees, owners and franchisees. Learn more about the company and other relevant information by accessing your online account any time.
Your sign in process is very easy and convenient to accomplish. There are no computer savvy skills required for you to view the available features and services. All you ever need is the proper authorization so that you can navigate the page with ease. The page is intended for North America, Canada, and International Marriot franchisees and associates. All owners, contractors, consultants, severance associate, separated staff, vendors, and others can also access the page. You can learn more by exploring the wonderful features at 4mypdr.com.
Comprehensive Guide for 4mypdr Login
It is very easy to use the login field of the page. Please read the following guide on how to properly use your authorized access:
Locate the Marriot extranet login page.
Use your security key or your Enterprise identification in the username field.
Enter your valid password in the designated box.
Review your password. Passwords are always case sensitive.
Use the login button to enter the page.
You will receive a warning prompt immediately after you have entered the wrong username or password. It is highly advised that you keep a copy of your login details in a safe and secured place for future reference. In case you cannot remember your password or username, use the Forgot Password key immediately. You will be taken to a new page where you are required to supply some account information. Your 4 My PDR information is required for security and verification purposes.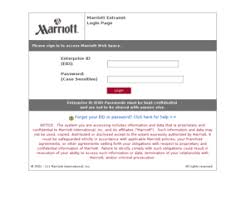 For immediate resolution of any issues or problems with your credentials, please contact the system support agent immediately. You may speak directly with the customer care representative at +1-240-632-6000. Alternatively, you may also call for support by dialing 1-800-721-7033. Assistance is available 24 hours every day and 7 days every week.