Get your very own Kia employee access at KDealer by enrolling through www.mykiaperformancecenter.com. Various systems and programs from Kia Motors of America will be available for you through your account. You will also have an exclusive access of the confidential information regarding your company.
It is very crucial that you have the approval from the Dealership Administrator before using your account otherwise you will not be able to access the page. There are two access points that you can use to enter the portal at mykiaperformancecenter.com. Choose between the KMA team crew and Kia dealership staff portal links that your account is affiliated with. Every time you use your staff login, please provide a KIA University password and username. For KMA team members, sign in by entering your password and KMA Network identification.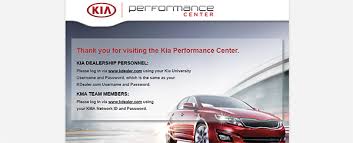 Login Privileges to Access MyKiaPerformanceCenter
Accounts belonging to the affiliate companies, dealership staffs and KMA team crew have login privileges from the administrator. The following are the titles of these accesses:
Vehicle Dealership Owner
Dealership General Manager
Auto Sales Manager
Vehicle Sales Consultant
Finance and Insurance Manager
Dealership Business office staff
Service Manager
Service Consultant
Service Technician
Warranty Administrator
Auto Parts Manager
Auto Parts Specialist
You have to locate and use the New User Registration link if you want to have an approved account. It is also vital that your device have met the system requirements of the page. There are contents that will not be displayed properly if your computer does not meet these specifications. Fill out the online enrollment form with your personal information and submit it to the dealership administrator. Check your inbox regularly because you will be notified through email if your application has been approved. The response will always arrive as soon as possible. You can always check with the DA for the status of your registration.
Your email is also used for the retrieval of a lost username. For security reasons, some details that you have submitted during your enrollment will be required in the recovery process. Follow the steps below in case you need to recover your user ID:
Navigate to the page of www.kdealer.com and locate the login for the KDealer.
Use the Forgot Username button when it appears.
Provide your email address in the Enter Email field and use the continue button.
Open for the confirmation message that has been sent to your email.
Use the Continue to Login button and access your account.
Feel free to contact My KIA performance center in case you require a quick and reliable technical support. For issues that are related to your account, please contact your DA directly. You may also speak to the customer service representative by dialing 1-800-327-2707. Alternatively, you may send your messages through email at KDealerSupport@Kiausa.com.