If you frequently eat at Jack-in-the-Box, you should take advantage of their online survey that allows you to leave feedback, while at the same time entering for a chance to win prizes and free food. Currently Jack in the box is giving away 2 free tacos to all customers who complete their online survey. Jack-in-the-Box wants honest reviews from customers like you who are willing to spend a few moments of your time to talk about their latest experience at a participating Jack-in-the-Box.
Jacklistens.com was created to compile customers reviews in such a way that they could enhance their franchise in order to better serve their all who eat in any of their restaurants. If you're considering taking the online survey provided by Jacklistens.com, make sure that you fill out the survey completely and honestly. Honest feedback is the only way that Jack-in-the-Box will be able to use the information that they gather from these surveys in order to make real changes.
Completing the online survey is quick and easy and only takes a few minutes of your time. Below you will find a complete guide and step-by-step instructional overview of what all is involved.
What is required?
Internet connection and a laptop or computer, smart phone, or tablet
Current receipt
11 digit code given on the current receipt
A valid email address
Personal contact information
How to take the online survey
Visit the official website address found at www.jacklistens.com
Once you have arrived at the official website, find the link entitled "click here" to continue
Enter the 11 digit code found on the latest valid receipt. Receipts are valid for three days after purchases are made
Next, verify the restaurant location you were at
Enter the time and the date shown on your receipt, choose whether you were a dine in customer, carry out or drive through customer.
Answer the next following two questions regarding your order.
Continue by clicking the red button
Rate your satisfaction level.
Provide any other details regarding your visit that you would like to provide.
After you have completed the online survey you will receive a validation code that is four digits long. Write these four digits on your receipt.
Take this receipt to your next visit to Jack-in-the-Box within seven days of completing the survey and you will receive two free tacos with your next purchase at Jack-in-the-Box.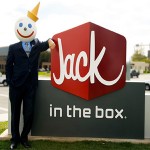 Keep in mind that this survey works for both parties involved. The information that you give them is very valuable and in return they are offering you a free reward. Your time and information is very valuable to the franchise and they appreciate loyal customers who are willing to participate in their program.