Manage your ADP totalsource employee portal by logging into your account through www.mytotalsource.com. To access your account, you need to provide your user ID and password to the designated boxes and click the "Log In" button. When using the employee portal for the first time, it is required that you register first before you can proceed. To register, simply click the "Register Here" button to get you started.
The employee portal provides a great venue for employees to gather information such as company news, announcements or statements, company policy, work schedule, payroll information and so much more through mytotalsource.com. This employee portal is very simple to use and you will never be left behind from information concerning your job.
More about MyTotalSource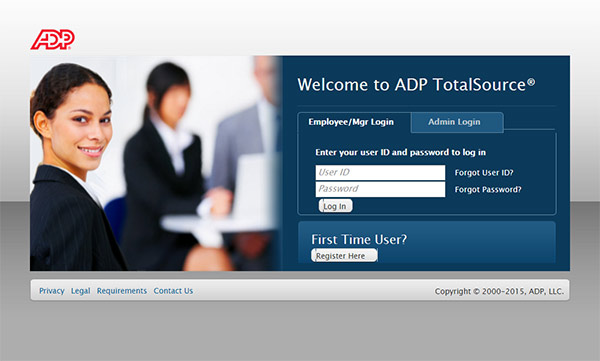 If you happen to forget your User ID or your password, all you need to do is click the "Forgot User ID" or "Forgot Password" button to recover the information you requested. After clicking the said button, you will be asked to provide your complete:
name
social security number
date of birth
security code
and ZIP code
These personal details will only be used for identity verification. After which an email will be sent to you through the email address you entered when you registered your account. The email will contain the information that you have requested from my total source. You will go through the same process when requesting your lost password, but this time you will be ask to supply your user ID in addition to the other personal information required above.
You must have a registration code provided to you by your organization or by ADP before you can register for a new account with my total source. This is to ensure that you are listed in the records. The registration code will serve as your personal ID code or your company code. You may contact your company or organization and ask for your registration code if you do not have one.