Access Your Kroger Benefits portal and learn more about the benefits that they offer and the programs that promote personal, financial, and physical well-being at www.yourkrogerbenefits.com. Kroger provides competitive benefits that will help their associates and their families improve and protect health, build financial resources, and improve well-being. By accessing Kroger Benefits portal you may use resources and tools that help you understand the benefits more and make educated choices.
To properly navigate yourkrogerbenefits.com you need to choose what type of beneficiary you are. The choices are current associate on COBRA, domestic partner or spouse, COBRA, severance, current Kroger associate, and retiree. For associates that are part of Chehalis or Payallup, master teamster collective bargaining body you may also login. If you're benefit plan covered by Welfare plan and Taft-Hartley Health on collective bargaining agreement, make sure to contact your plan administrator or the HR department for more information regarding your benefits.
Once you made your selection, you will be asked to provide your account user ID and password. Each of the given selections will provide you with different login style. Each member will have their own username and unique password. If you haven't been to YourKrogerBenefits site since May 27, 2013 you will be asked to register a new account.
YourKrogerBenefits Registration Requirements:
Username
Password
Last Name
Year of Birth
Social Security Number (Last 4-digits)
Valid Email Address
Secret Question and its Answer
If needed, the secret question that you provided will be used to reset your account.
Kroger Health
Kroger offers medical plans with deductibles. You can earn incentives by simply meeting Kroger health screening targets and use have that incentives used for your health expenses during the year, therefore reducing your medical plans deductible that you need to settle. Prescription drugs are included on all medical plan provided by Kroger.
They also offer standard or premier dental plan as well as vision plan. Dental plan is administered by Aetna and vision plan by Vision Service Plan (VSP), respectively. You may choose a Health Care FSA for your medical, vision and dental not covered by your health plan and get tax savings on expenses you pay using your own money. You can also take advantage of Kroger's online health resources to support your health and make a better lifestyle. Get discounts on their fitness facilities and gyms and achieve your health goals.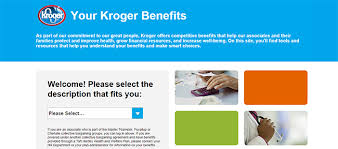 Kroger Money
Your Kroger Benefits helps you save money for your retirement with automatic contributions. You will receive an automatic contribution of up to ,000 a year after one year of service and up to ,000 after serving for 5 years. You will also receive a matching contribution after one year of service. You may also share in Kroger's success by buying Kroger's stock and sell it anytime you want. They also provide life insurance and personal accident insurance, short-and long-term disability coverage that provides replacement income, and Dependent-FSA offering tax savings.
Kroger Life and Work
MetLife, a partner of Kroger, offers insurance options as special group savings. A reliable, unbiased, and confidential third-party Employee Assistance Program is also provided for you and your family. Schedule up to six face-to-face counseling sessions per year using EAP. All of the sessions are free of charge.
Associates of Kroger can get discount in shopping store using direct mail coupons. The also provide discounts on educational resources, mobile service plans, computers, vehicle purchases and more. If you have problems accessing your Kroger benefits account, you may call them at 1-800-952-8889. If you have questions regarding Kroger benefits you may reach them at the telephone number 1-877-373-3397.