There is a new and simple way to wellness when you access your account in YourHealthFile Patient Portal at www.yourhealthfile.com. Sign into your account now and update your profile. Keep in touch with your medical provider and review a detailed summary of your records. You may also review all your medication records or your current prescription drugs. There is no need for you to visit the lab or wait for a call from the doctor's office just to receive your lab test results. Just sign into your account and safely view the results of the lab tests online.
If you are a first time user of YourHealthFile.com you can activate your account by clicking on the red button that says "Activate your account here" and entering your generated account activation details. Click on "Activate account" after providing the required details. Once your account is activated, all you need to do is to enter your user name and password to the User Login Info and click on the "Login" button to proceed to your account.
You can still access your health file account even if you forget your login details, just click on the "Forgot Info" link and provide the required details to retrieve your account information.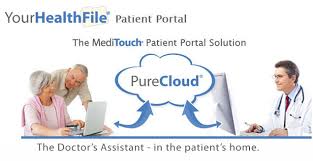 More Information on YourHealthFile
YourHealthFile, also known as MediTouch Portal, is a web-based portal that allows patients to securely store personal health care records, and communicate and interact with their medical providers. Users must agree to the terms of use set by HealthFusion, which is the provider of your helath file Portal, by clicking "I accept" and successfully completing the online registration. Make sure to periodically visit the User Agreement so you are aware of any revisions to which you are bound.
You may opt-out of receiving any future emails, faxes or mail communications from HealthFusion, Inc. by dialing the number (858) 523-2120 and leavimg a voicemail indicating that you would like to be removed from their contact list.