Have the opportunity to own a customized street vehicle license plate through www.myplates.com. You can select a creative design and background color for your own vehicle from the various choices available. Create more personalized vehicle plates by choosing your design, color and submitting your plate message. The plate message comprises of characters of letters, numbers, and special characters combined.
The state of Texas has available merchants that can make personalize licensed vehicle plates and are allowed to be used. The myplates.com is an online store where you can request to create custom vehicle plates. Browse through the offered themes and select your choice of background. You can choose among these designs and a portion of your payment goes to the general revenue fund of the state. The office helps provide services to the people of Texas.
Different My Plates themes for your personalized vehicle plates
Texan Lone Star Colors
Variety of Texas Themes
Different Colleges or Universities
Fraternities or Sororities style
High school designs
Outdoors or sports themes
Charities or organizations
Business style designs
Steps to Create a Customized Vehicle Licensed on MyPlates
Choose the "create a plate" button from the myplates homepage. Choose a category for your vehicle plates that fit your style as well as your budget. This will range between seven-letter personalized plates, personalized category of plates, background only, and restyle category. Click on the select button for your choice of category.
Next step is to select the type of your vehicle. Choose among passenger, private bus, motorcycle, or trailers vehicles.
Select your favored design based from the above mentioned themes.
Type in the plate message of your vehicle based on the category you had selected. It is composed of a combination of numbers, letters and special characters. Then, select the check availability option to verify your plate message. Once your plate is available, select the order this plate option to proceed with the process.
Select the option of how long you want to use your customized vehicle plates. Then, fill in with the necessary personal information on the box allotted for identity and check out from the process.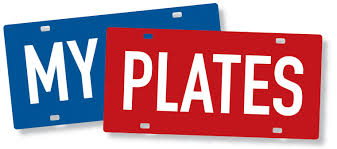 The customer service center has an agent that is available weekdays from 8am to 5pm for your concerns and inquiries. You can reach them by dialing the toll free telephone number 888-769-7528. You can also send inquiries through the fax number (936) 462-4676. Browse through the FAQs section of the page to read over commonly asked questions with answers for your immediate problems about the services. Send your questions or leave a message by sending the customers service team an email message at customerservice@myplates.com.