Manage your Home Depot Home Improvement Services online account by logging in your Telephone number at www.myhomedepotproject.com. Remember to log into your account using your telephone number and your area code. Click on the "SIGN IN" button to get you started. If you are not a customer, you may proceed and explore the site by logging in as Homer D. Poe using telephone number 123-456-7890.
As a customer and a member of myhomedepotproject.com. You can view your job listings to find useful information on your current job status, warranty information, job contracts, referrals and reminders when you sign in to your account.
Features of MyHomeDepotProject
The Home Depot Home Services Includes the following installations:
Roofing
Siding
Windows
Insulations
Gutters and Leaf Protections
My home depot project is made for you to help you build your dream projects. Using the website you can tap into a nationwide network of carefully selected, licensed professionals with years of experience on doing the job that you require. Some home improvement stores just sell products, but The Home Depot doesn't just help you on choosing what you need but they also make sure that your dream turns into a reality.
To request information, you may send them an email by clicking on the "Contact Us" link located near the bottom of my home depot project page. When you send them an email, you will be asked to enter the following information:
Job Number
Email Address
Email Address Confirmation
Phone Number
Select Email Category
Subject
Your Message
You may enter your questions or comments for up to 4000 characters. After providing the necessary information, click the "SEND" button.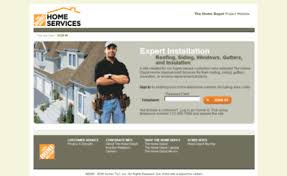 Click on the links of "SHOP THE HOME DEPOT" located at the bottom of the page to have an access The Home Depots' online shop. Select from wide varieties of products and have them installed by experts.