Starbucks employees are receiving great employee benefits. The company also bears employees' college tuition. The good news is that workers are now able to get themselves enrolled in online classes, at Arizona State University. It is something that never has been done before at least not by someone from a fast food industry. Starbucks is known for being generous when it comes to benefits offered to employees. They also offer health insurance, vacation time and 401K packages. Keep reading the article to learn more about the benefits offered to Starbucks employees. Starbucks employees who work more at least two hundred and fifty hours qualify for the following perks.

Free Tuition
The major portion of Starbucks employees who wish to go to college will be paid by Starbucks. The company pays full tuition fee for juniors and seniors and partial tuition fee for those new employees. There are about forty online degree programs from employees can choose and the best thing is that they are not required to work for Starbucks after completing their courses. Some of these courses are very expensive costing the coffee chain over two thousand dollars. Starbucks is happy to invest in the education of its employees.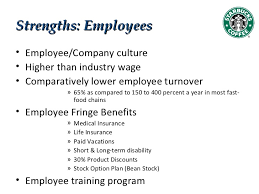 Free Stock
Starbucks employees have the opportunity to get benefit from this exciting offer. This is the best strategy to keep them motivated. For this the company has Bean Stock program. Generally this offer is limited to executives but at Starbucks low-level workers can also benefit from this offer. The company started the Bean Stock program in 1991 and since then stock has increased in value by over one hundred fold.

Free Coffee
One benefit of working for Star Bucks is that you get a pound of free coffee beans every week or a box of Tazo tea. Starbucks employees are not charged for beverages while on work. There is also a 30% discount for them on foods and beverages served at Starbucks.

More Information
Read more about Starbucks employee benefits, employee discounts, health insurance, 401k plan, reviews and comments.