Open the people net tracking and management system solutions through www.mypeoplenet.com. You can open your account by signing in your user ID (likely your email address) and together with its password. When it is opened, you will have access to management tools such as: time adjustments, work policies and payrolls. For questions about these management tools, please contact your payroll administrator or company assistance.
Click the "Trouble signing in?" link if you are having difficulty logging in to your account. It is located at the bottom right-hand side of the page. You will then be asked to select from three options with regards to your problem signing in to your account; whether it is about your username, password or other problems related to signing in. Upon selecting one of the three options you will then be asked to fill in your personal details such as First Name, Last Name and the last 4 digits of your SSN. Mypeoplenet.com will search the list of users and help you access your account. If you have forgotten only the password and have you still remember your Member ID, you will only be asked for your User ID/Email address and your Last Name then you will sent an email for your reset password.
MyPeopleNet Registration
You are required to fill in your personal details for you to create an account in My People Net. Hit the "Create an account" link to get started. For you to better understand the registration process click the "play tutorial" button below the previously mentioned link. A new tab will open and a video and pdf guide is there for you to use. Fill in your complete name, the last 4 digits of your SSN/SIN and your Email address. After completing the form, press the "Continue button.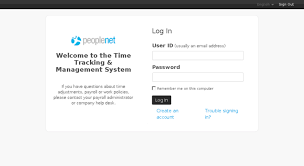 Your My People Net account will give you access to the time tracking and management system anytime and anywhere with the use of your mobile device like a smartphone. A mobile application is available for you to download so you can access your account all the time and wherever you are when connected to the internet.