Get your access and choose from the available amenities from the State of Alaska through my.alaska.gov. Use only a single and secured login to interact with the various services for your needs. There are account products that cater to individuals and businesses. Receive these amenities by supplying your valid username and verified password.
Various menus are accessible for the purpose of navigating the portal with ease. You can use these menus without signing in but your access is limited. Information that falls under My Profile and My Documents will initially require your valid password and username. Register for a new account by providing the required personal details at alaska.gov. Use the three links below the Login box if you want to register, recover your username or reset password. You must also agree to the user agreement before submitting your registration.
Services and Products of MyAlaska
The following are list of some provisions offered for prospective individuals and businesses:
Alaska Commission on Postsecondary Education – Student Aid Page
Background verification system
Child support case financial statements online
View the status of applications through MyPFD
Notary Commission services
Card online payment for food worker
Violent Crime Compensation Board
ABC track and limit orders of alcoholic beverages
DEC – online payment
Employment Tax
Commercial auto enforcement and measurable standards
Newly hired reporting by employer to CSSD
You can use the Visiting Alaska tab if you want full information about the offered products. Locate the tab at the topmost area of the portal. Media resources such as maps, photos, facts and other relevant information are also visible for your use. Learn additional details regarding living conditions, career opportunities, recreational locations and resources as a local resident. Know more about the specifics of your local businesses or state employees through the appropriate menu. My Government tab also serves as your information source about public safety, legislature, administration, congressional delegations, and fish or game season.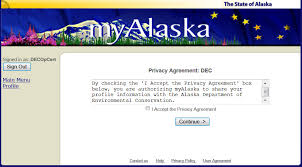 Contact my Alaska customer care desk for assistance regarding your account. Send your mail correspondence to Department of Administration Enterprise Technology Services, building number 333, Willoughby Avenue, 5th Floor, Post office box 110206, Juneau, Alaska, zip code 99811-0206. Email address is myalaska.help@alaska.gov. Telephone numbers for Juneau, Fairbanks and Anchorage are 907-465-5211, 907-451-5911, and 907-269-6311 respectively. Customer assistance is available every Monday through Friday, from 10:00am until 4:30pm Alaska Time.