Get your personal access to QCNet and use My QCNet Account at www.myeinserts.com. Use the drop down menu for your product name, lot number and language of the inserts. You may also learn more on the program of Unity Interlaboratory.
There is a box labeled as Get Help that will provide you with various guide options. These options are language settings for the quick start guide, watch video tutorial and user guides. Please locate and examine the quick link box at the starting page of myeinserts.com. This menu aims to speed up your navigation and promotes accessibility. Use the available button marked with Register for Updates Alerts, Saved Inserts and Unity Interlaboratory Reports through your account.
Enrollment Requirements for MyeInserts
Register for a new account if you want to have your complete access. Use the link labeled as Log In/Register, it is located at the top right part of the portal. A new window labeled as New Users Signup will appear and will require the following details:
User ID
Password
First name
Last name
Area Code
Telephone number
Extension
Fax number
Name of company
Email address
Country
Please indicate during your enrollment if you would like to receive the following choices in your mail or email:
Direct mails from Bio-rad
Regular email from Bio-rad
Email alerts for new inserts from Bio-rad
Email reminders for the availability of Unity reports
Read the terms and user agreement of the company for your benefit. You will need to agree to the stipulated privacy policy before your application can be submitted. Keep in mind that your personal details will not be shared to any third party without your knowledge or consent. Check that you have filled up the required details on the form. Incomplete information will result in error and your application will be denied by My E Inserts. To complete your registration process, find and use the Submit button.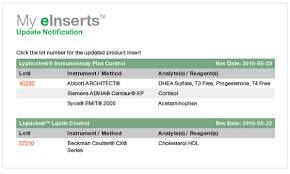 In case you need assistance with any account related issues, locate the Contact Us button at the top right area of the page. Various mailing address are listed as well as phone numbers for different countries. To speak directly with a customer service representative, please dial 949-598-1200. You may send your correspondence to Diagnostics Group, 9500 Jeronimo Road, Irvine, California, and zip code 92618.