LiteBlue Login: LiteBlue is the self-service portal designed for the USPS employees. It gives them access to various services including benefits, payroll, schedule and more. USPS currently has more than 600,000 employees across the United States. This portal helps the employees stay connected to the company all the time.
USPS encourages its employees to regularly log on to the site as it helps them stay up to date with what is new. Let's know more about this site.
LiteBlue Registration And Login | LiteBlue.USPS.gov Login Guide:
If you are an employee of United States Postal Service (USPS), the LiteBlue login is for you. But, there are a few things you need to keep in mind before starting the login process. Here is what you need to know:

Employee ID: First of all, you will need your Employee ID to log in on the LiteBlue USPS website. This employee ID serves as your username on the site. If you are not sure where to find this ID, simply open your payment statement and look up for it on the top. You need to find a number with 8 digits which is printed above 'Employee ID'
Password: This is the password you set up or create in your Self Service Profile (SSP). This password is not only for the LiteBlue Gov website but for a wide range of self-service applications as well. USPS has set new security standards effective April 28, 2014. If you do not have the password yet or you have forgotten it, visit the link

https://ssp.usps.gov/ssp-web/welcome.xhtml. More on password reset later. Please note that this password will not work on the Self-service IVRs of USPS; you will need PIN or Personal Identification Number.
How To Do LiteBlue Login?
Once you have the Employee ID and password, follow these steps for LiteBlue Login:
Visit the website

https://liteblue.usps.gov/wps/portal
Enter your Employee ID
Provide your password
Click 'Log On'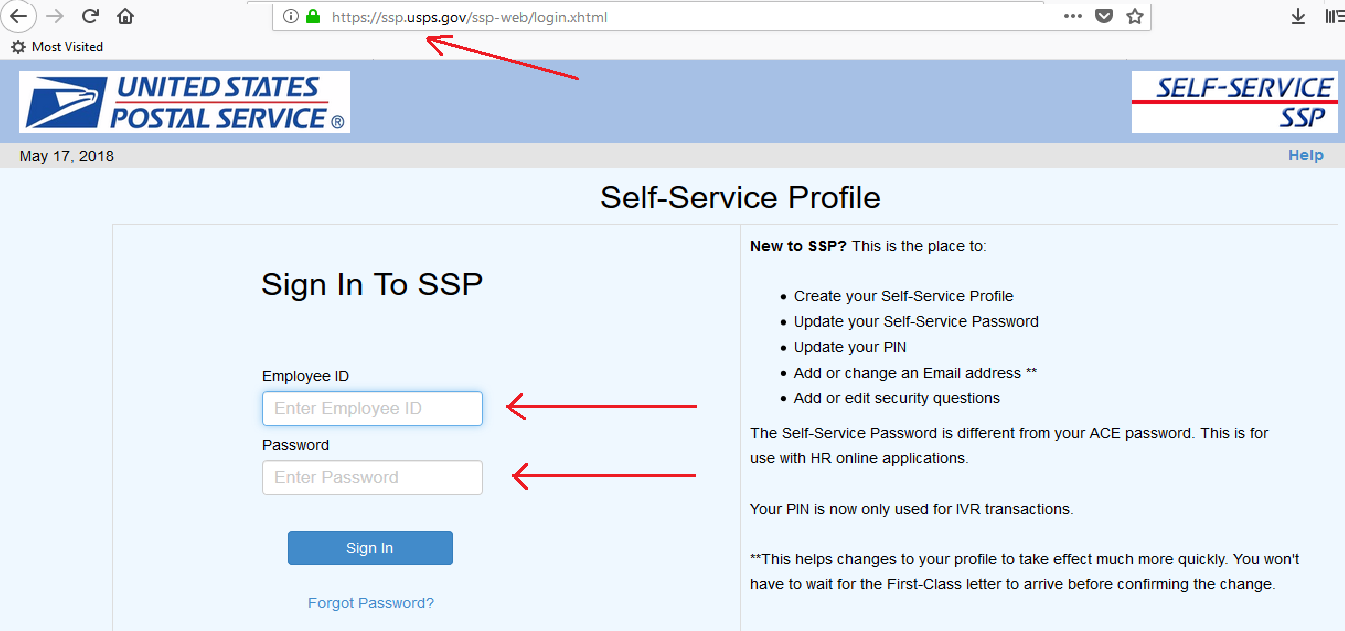 Simple! You just need the valid credentials to log in.
Note: This website belongs to the United States Government. Unauthorized use or access of LiteBlue website may lead to legal prosecution or administrative action.
Forgot LiteBlue login Password? Understanding SSP and Creating/Resetting Password:
You need a valid password to log on to this site. If you are a new employee of USPS who hasn't yet accessed the LiteBlue website, you will need to create a password. If you are an existing user and have forgotten your password, you can reset the password and create a new one. The process for both is pretty much the same.
USPS has created a separate portal for Self-Service Profile (SSP) sign in. LiteBlue is just the part of many self-services the company provides to its employees. Here is the list of things you can do with SSP login:
Create your personal SSP profile
Create a new SSP password or reset an existing one
Change your PIN
Update your contact information and email address
Create new security questions or edit the existing ones
The SSP helps you create and manage the login credentials for a number of self-service web services such as PostalEASE, LiteBlue, eReassign, eldeas, and eOPF.
LiteBlue login Features And Services:
LiteBlue is the USPS employee portal, which gives them access to a wide range of information related to their employment. It is one of the most important self-service applications provided by USPS to its employees. Here are some of the things you can do on this site.
Schedule: different employees of USPS have different schedules. You need to be in the know of your schedule so that you reach work on time. Knowing your schedule also means that you can plan your out of office time better. You can log in to the LiteBlue website and navigate to the schedule section. Here, you will be able to see your schedule for the day, current week, and current month. Any changes to the schedule can only be made by the manager or HR. You may request a change in schedule but it will be subject to approval. In case there are any changes to the schedule, you are notified in a timely manner.
View Benefits: USPS offers many benefits to its employees. You would like to know which benefits you can opt for and which ones you already have. LiteBlue is the place where you can see all your benefits. It also gives you access to another self-service application called PostalEase. Here, you can manage your benefits easily. You can choose new benefits and change the existing ones.
Update your contact details: In case you changed your phone number, home address, or email address, you can update the new details on LiteBlue website. You simply need to navigate to the personal information section where you can edit the contact information.
Careers and Opportunities: If you want to keep up to date with the career and job opportunities offered by USPS, this is the place to be. You can see the new job openings within the organization and check the eligibility criteria. You can also apply for the new job positions from this website.
gov epayroll:

This self-service portal also lets you view your paystubs, payment statements, and other payroll related information. You can download the paystub in the PDF format on your computer or send it to your registered email address. You can also opt for the LiteBlue USPS epayroll, which will ensure that your payment statements are sent to you automatically every month when they are generated.
Liteblue Login – Avoid Phishing Attacks:
Phishing attacks have become quite commonplace in the web landscape. The web criminals pass off a fake website as a genuine one and collect your login credentials. Do not fall pretty to such scams as it may compromise your security. Make sure you never click a link in the email claiming to be of LiteBlue. Always type the correct URL in the address bar.