If you are a Florida resident, an online Department of Revenue has been developed for your convenience and you can access it through www.myflorida.com/dor. The Florida Department of Revenue website offers services for child support, properties, taxes and so much more.
To attain a higher level of voluntary compliance, the Florida Department of Revenue or DOR, is an agency that is responsible and accessible to the people of Florida and delivers a just and efficient taxation and child support programs. Serving its people with utmost respect, great concern and professionalism, it is the goal of myflorida.com/dor to develop tax laws and a child support system that are easy and comprehensible.
Navigating MyFlorida/DOR
My Florida also offers links to information and resources which includes forms and publications, news releases, open government and public records, public meetings, Q's and A's, regulatory plans, surveys, emergency and disaster information, report tax violators/reward program, tax incentives for business, Florida minimum wage, internal revenue services and more.
If you are a parent who wants to make payments for child support, you can pay online using your electronic check or your credit card. You can access your case information using the e-services and learn on how to apply for child support services. Contact Florida DOR customer service by dialing 1-800-622-5437 Monday – Friday from 7:30 a.m. to 6 p.m. EST. They are always ready to answer all of your questions. You can also update your employment status, address and other personal information just by calling their customer service hotline.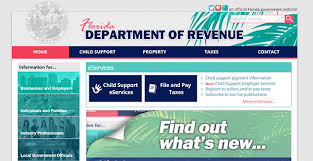 For child support disbursement, an automated information message is made available to you when you contact them at 1-877-769-0251 Monday – Friday 8 a.m. to 6 p.m. EST. Payment information provided includes the following: The Date of Payment, Number of recent Payments with its respective payment amounts, Deposit Information for your FL debit MasterCard, Report your Stolen or Lost checks, Request to Cease Payments and Change Address.