Manage your ClientLine private account by accessing through www.myclientline.net. You have to select your account category as vendor, non-merchant, or Omaha client. You may proceed using the provided link after you have chosen an account to create. Choosing a category will also redirect you to the proper page. Enter your password and user ID in the succeeding page and then continue to your access through the 'Login' key. For issues such as forgotten password and username, please refer to the support link for help.
Create an exclusive ClientLine access if you would like to become a valid member. Your membership will let you have the advantages of using the online tools. With these tools, you can quickly manage all your virtual transactions and review your payment processes. The registration procedure will take very little of your time to complete. Learn more about your enrollment process at myclientline.net.
Account Enrollment with MyClientline
You need to have your own account before you can receive the full benefits of My Client line. The following are the steps to be followed during your registration:
Look for the 'Enroll' link at the main portal.
Use the orange link to reach a new area.
Read and understand the instructions on the succeeding page.
Use the 'Begin Enrollment' button and wait for the registration form to appear.
Supply the form with your personal details like your merchant number, tax code, full name, and more.
Using the 'Next' key will lead you to the succeeding step.
Receive your approved username.
Confirm your enrollment to complete the process.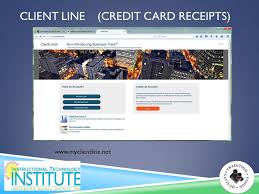 There are useful menus that can be explored through your login details. Please check the 'ClientLine Demo' if you want to know more about card processing systems. This information is quite handy especially in the management aspect of your business.
There is another useful menu of My Clientline that can help you manage your tax obligation. Through the 'Tax Information Updates' you can get the latest tax details that you need. This is very useful in case you want to update or validate your tax data.
For your comments, queries, or complaints, please direct your call at 0345-606-5055. For inquiries regarding sales, please call 0345-841-2414. The FAQ page is also a good reference for solutions to common issues.