Manage your ADT security online account and utilize its full potential through www.myadt.com. By logging into your account you can manage your emergency call list, pay your adt bills and you can order yard signs online. Creating an account for myadt is really easy, if you don't have one.
Accessing your account in myadt.com will allow you to manage your security system provided. ADT provides home security system for: Fire and Smoke monitoring, Burglary Alarm, and Carbon Monoxide Detection. All this innovative technologies integrated into your home to make sure that you are protected the likes of thieves and fire. But this state-of-the-art technology needs only a little management by you, thanks to MyADT App. Log into your account online using your mobile device.
With your online account at my ADT you can monitor your home security system. ADT also features automation systems for doors and light. One feature allows you to view a real-time video of the camera setup you have by ADT for your home. You can arrange payments for your bill online or setup a payment for future date eliminating the need for paper transaction and the inconvenience of going to the ADT center to handle payments. Make sure to download the mobile app for your Apple or Android device so you may access all the features on-the-go.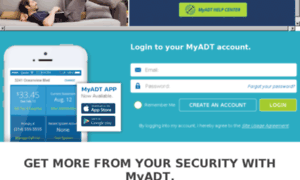 MyADT Features
View & Pay Your Bill
Manage Emergency Call List
Paperless Transaction
Get Insurance Certificates
View Alarm Activity
Order Yard Signs
Remote Arm/disarm
Video surveillance
Burglary Monitor
Fire & Smoke Monitoring
Garage Door Control
Lights
If you don't have an account with My ADT and you are already a customer, you can create an one by clicking the appopriate button right next to the "LOGIN" button. You will then be asked to provide your primary phone number and your verbal security password that is on file when you applied for a home protection system. Then click "Find Account".
The Help Center page provides you with a search box to type in your question or concern. The search box is rich with information but limited so if you are not able to get the answer that you need don't hesitate to call them at 888.323.3121 (Sales) and 800.588.2159 (Support). Customer service team is always ready to attend to your needs 24/7.