Start your access to your own Belk account and manage it effectively through www.belkcredit.com. From here you can view every available deal that you can get your hands on. You can also know the possible rewards that you are entitled to earn on all your purchases.
Register to have your own Belk Rewards Card at BelkCredit.com. Earn Rewards Dollars from your purchases at any participating stores and brands. Be updated as one of the Card members on every activity of your account as well as learn to maximize your savings. Be informed on the most effective way to receive perks from your card membership.
Start Your BelkCredit Services
You can easily start your Belk Credit Services online. The process is very easy to follow. An added bonus of 20% discount from your purchases will be given on the day that your account is accepted.
All preapproved offers that you have received through mail will require you to navigate www.belkcredit.com/offer. Input the 9 digit Acceptance code that you can find at the bottom of your Acceptance Certificate. Also include your surname and submit your information so you can start using your account.
Activate your card once you have received it through mail by accessing www.belkcredit.com/activate. Manage your online account by logging in using your authenticated user ID. You can immediately activate your card by linking it to your authorized account.
Things to Do with Your Belk Credit Services Online
Efficiently manage your account by having all the information regarding your expenses on hand. The following services are currently offered to every registered user like you:
Online bill payments
Personal information viewing and updating
Authorize user to your account and additional card request
Transaction records download
View the recent account activity
Electronic statements signup
Account balance viewing
Reward points verification
Keep in mind that your login credentials are different between belkcredit.com and belk.com. The passwords and usernames are also not interchangeable. This is implemented to maintain security on both portals.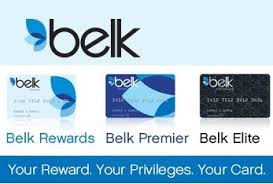 Review the terms and conditions thoroughly before submitting any personal information during your registration as expected from any financial agreements. Your Belk Rewards Card is wholly operated and issued by Synchrony Bank (SYNCB). Immediately report any lost or stolen card to your Belk Customer Service by dialing 1-800-669-6550. Customer assistance are available during Monday to Saturday from 8:30am until 7:00pm Eastern Time. Please follow the instructions of the automated telephone prompt system if you are calling after hours.