Get a chance to win 0 when you participate in M & S customer survey at www.yourmandsviews.com. M & S wants to hear from you, so they developed this customer survey portal so you can give comments, feedback and opinions related to their stores and their services. The data collected will be used to enhance the store and services so you can have a more enjoyable experience the next time you visit.
You must have your M & S receipt details with you to participate in the survey on. Activate the link that says "Click here to start the survey" located on the Yourmandsviews.com homepage. A new page will appear asking you to provide your unique code and the date and time of your last visit to M & S store. You can check for the unique code on your at the top of your receipt. After providing the information on the designated boxes, click on the "next" button to proceed.
Survey Questions from YourMandSViews
How likely you are to return or recommend the store to a friend
What section to you always visit
Store cleanliness
Customer-Staff interactions
Shopping Habits
Overall customer satisfaction
Age and Gender
Check out experience
After proving you have visited your M & S views, you will be asked to provide your personal details and will be entered in the cash prize drawing. These personal details include your full name, valid email address, Zip code, and telephone number. The personal information will only be used in the event that you are chosen as the winner.
The prize drawing is open to anyone over the age of 18 years. Each customer will receive one (1) entry to the draw after completing the survey. Each person, unique email address or telephone number can only join once. Selected winners will be contacted through email or telephone within ten (10) business days of the draw.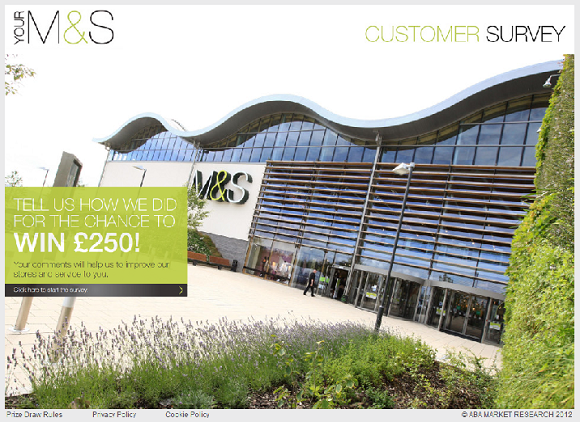 They will not contact you and ask to provide your bank detail. Should you experience such, report it immediately to the authorities.
For more information about the M & S prize draw rules, click on the link titled "Prize Draw Rules" located at the bottom left-hand corner of YourM&SViews homepage.