Manage your account or have your Vanilla MasterCard or Visa debit card activated through www.myvanilladebitcard.com. Sign in using User Id and your password at the designated boxes and click the "Sign In" button and have access to your account. If you do not have an account yet, setting up is easy. Click on the "Account Setup" link to get you started. You will then be redirected to a page where you will have to fill in your Vanilla or Mio debit card number together with its security code. The security code is a three digit code located on the back of your debit card.
Make sure to check your current Vanilla Debit card balance before you make your purchase. If you have an online account with myvanilladebitcard.com, all you need to do is to sign in to your account and check your account balance. No need for you to go to an ATM machine. Check your balance online and on-the-go made possible by having a MyVanilla online account. Every time you use your card at an ATM machine to withdraw funds, always select "checking" when you are offered an account option.
Reloading a MyVanillaDebitCard
Merchants have no means to determine your card balance, so if you purchase an item of higher value than your card balance, your purchase will be declined. Some merchants or retailers may offer a second method of payment, you can use cash, other debit or credit cards or your check to settle the remaining balance.
If your VanillaCard has run out of funds, you may visit the myvanilladebitcard website, then click the "Reload MyVanilla Card or Mio Card" link and apply for funds. You can also have your card reloaded at Vanilla Reload Network retailers near you and reload from .00 up to 0.00. You will be charged .95 reload fee. You may also call them at 1-888-429-8140 to apply for funds.
Vanilla Reload Network Retailers
CVS pharmacy
Dollar General
FAMILY DOLLAR
Freds Super Dollar
7 ELEVEN
Walgreens
Office DEPOT
Walmart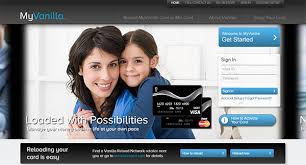 For your questions, concerns and inquiries about your My Vanilla Debit Card or account, you may call 1-855-686-9513. For your Mio Card or account contact them at 1-866-840-6461. You may also visit their FAQ page by clicking the "FAQ/Contact Us" link located at the top of my vanilla debit card homepage.