Start collecting your own personalized Pokémon card by exploring through www.mypokecard.com. Flaunt your designs and enjoy it with your friends and family. There are no limits on the designs that you can create with your pokemon cards.
Share your creation with other Pokémon enthusiasts via online or in person. You can also view the personalized cards of other creators at mypokecard.com. One of the features of the program is that you can create coloring templates and have it printed out. Use the online information as a guide when you are creating your Pokémon cards.
Customization Process of MyPokeCard
Use the design generator for creating your unique cards. The outcome will depend entirely on your input selection of the following:
Creature type
Pokemon creature series
Name of creature
Hit points level
Upload a jpeg format picture
Evolution stage
Name and damage points of attack 1
Description of attack 1
Name and damage points of attack 2
Description of attack 2
Illustrator and comments
Weakness cost
Resistance cost
Retreat cost
A preview of your finished card is located at the left part of the page. The final result will be based on your creature configuration. You will have a card with a default design in the beginning of your customization. As you change the default information, its displayed image will also change. This preview feature is very useful so that you will be satisfied with the final result.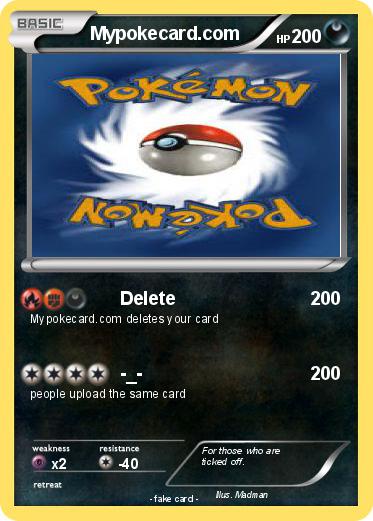 You will be guided on the process of printing your personalized design. Please locate and use the "How to Print" link for more information about the procedure. It is also possible to view the designs of Pokemon card users and be inspired to create more. Choose between the most favorite and the recently submitted for your viewing results. Vote for the design that you like the most and the winner will be included in the list of favorites.
It is very easy to create My Poke Card coloring pages. Find and use the "Coloring" key to begin creating your concepts. A black canvas is your initial tool when you are designing a coloring card. Take your pick among the available elements and apply it to your canvas. You can also remove a design and change it accordingly. Finish your work by using the "Print" button. In case you have issues or comments, the customer care assistance is always available. You may send your message by email to pokemaster@mypokecard.com.