If you want a quick, reliable, secure and convenient way to manage your funds, access Your payroll card through www.itsmypayroll.com. You can manage your account by simply entering your Card number and Access Code and clicking the "Login" button. ITS is a platform for you to manage your funds in the most efficient and convenient way possible.
The card issued by itsmypayroll.com can be use from the convenience of your home, through online shopping and paying bill, or use it to pay for your grocery and even pay for your gas by using it anywhere Discover cards are accepted. The online account will allow you to access your current balance, transaction activity and so much more. If you have a new card, activation starts when you click the "Click here to Activate!" link on the page.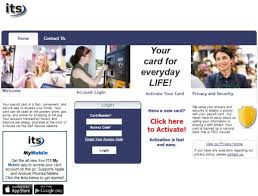 Activation Process on ItsMyPayroll
Enter your card number into the designated box to begin the activation. Once your activation process is complete, you can then use your prepaid debit at your convenience for online transactions, grocery and anywhere Discover card is accepted. You can also manage and track your account status online using its my payroll.
Payroll card Features
Moneyless transactions for every day purchases.
ATM cash withdrawal (In-networks ATMs only)
Online fund transfer
Mailed paper check upon request through Bill Pay.
Your security and privacy is Its My Payroll's top priority. The card issued is backed by Central National Bank which is a member of FDIC. For more information related to your card and or your account, click the "Contact Us" button on the menu bar in which you will be asked to enter your name, preferred method of contact, email Address or phone number, and your message. Make sure not to enter sensitive information such as your account number or SSN in your message. You can also contact customer service by calling this phone number 1-866-977-3974 or email directly at customerservice@cnb-enid.com. Send mail to this address: Prepaid Card Central National Bank PO Box 3003 Enid, OK 73702.